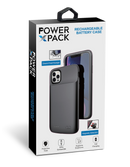 Description
The Rechargeable Battery Case includes a large capacity battery tailored specifically for each phone, so you can get the best performance with no compromises. It's compatible with any 8pin earphones, as well as Car Play, and you can recharge it with any 8pin cable. 
The back of the case is magnetic, allowing you to use it comfortably with any magnetic car holder. 
We chose the best materials when designing this case, and we know that safety is extremely important when handling our devices, so rest assured because the shockproof, over-the-screen bumper has got you covered against drops or scratches,
A slim, easy to carry case that packs a lot of power. Slide your phone in, turn in on, check the LED indicators on the back to see your energy percentage, and forget about running out of battery for the rest of the day!